"Candy"
d.o.b. 24 December 2012

(Am. Ch. Jerlin's Songster x Horsleys Sirurekatar)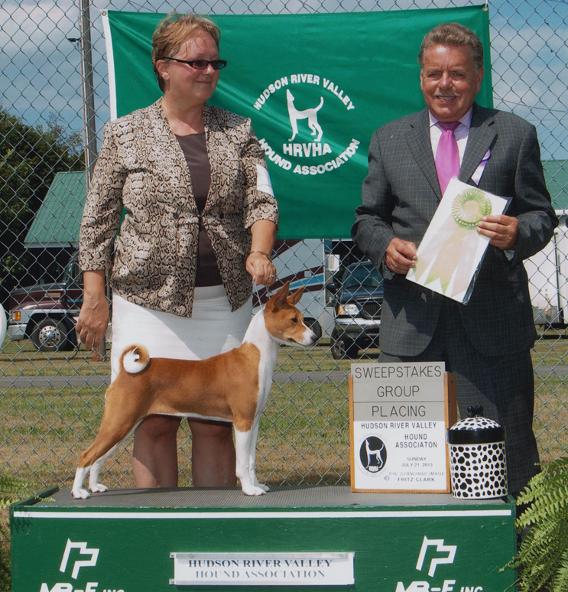 Best in Sweeps, Sweepstakes G3, Hudson River Valley Hound Show (aged 7 months)

Candy started her show career with a bang, winning 2pts at her first show in Lima, Ohio and following up the next day with a 5pt major under breed specialist Katie Campbell. Back in Canada, she won 2 puppy hound groups and a best bred by exhibitor in show. On her next trip to the US, this time to New York, she was Best in Sweeps at the Hudson River Valley Hound Show under breed specialist Mike Work. 2 weeks later she was back, winning a 4pt major with another 2pts the next day. She then quickly finished her Canadian title, and in 6 shows picked up 3 BOBs, 4 BPs, a G2, G3 and G4, 3 hound puppy group wins and a BPIS. Candy has now won 6 puppy groups and was recently BOS and Best Canadian Bred at the Basenji Club of Canada regional specialty. In the space of just two months, she was the No. 4 Basenji in Canada. At the National Specialty in Abbotsford, BC, Candy was Best in Sweeps, then followed up with an Award of Merit and Best Canadian Bred under breed specialist Kathy Britton.
Health
Candy is Clear/Normal for Fanconi Syndrome
by direct gene test
PRA - Normal
Eyes - CERF BJ-381923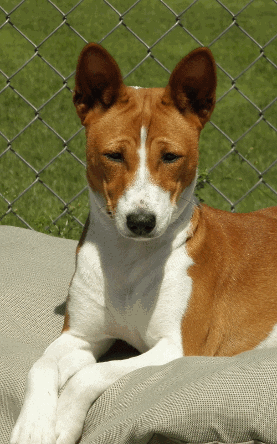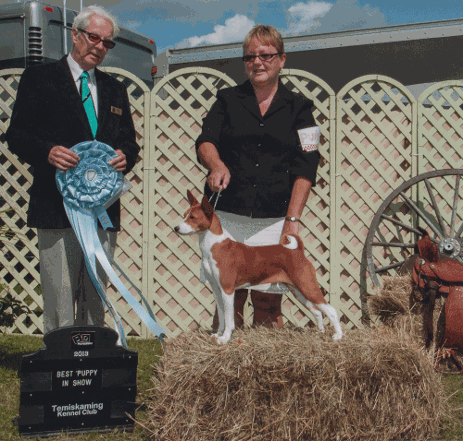 Relaxing in the sun Best Puppy in Show Temiskaming Kennel Club
Candy started winning at an early age. Here she is at 9 weeks old with her first trophy for BOB in the Puppy Races at the Mandalay Basenjis puppy party, February 2013!